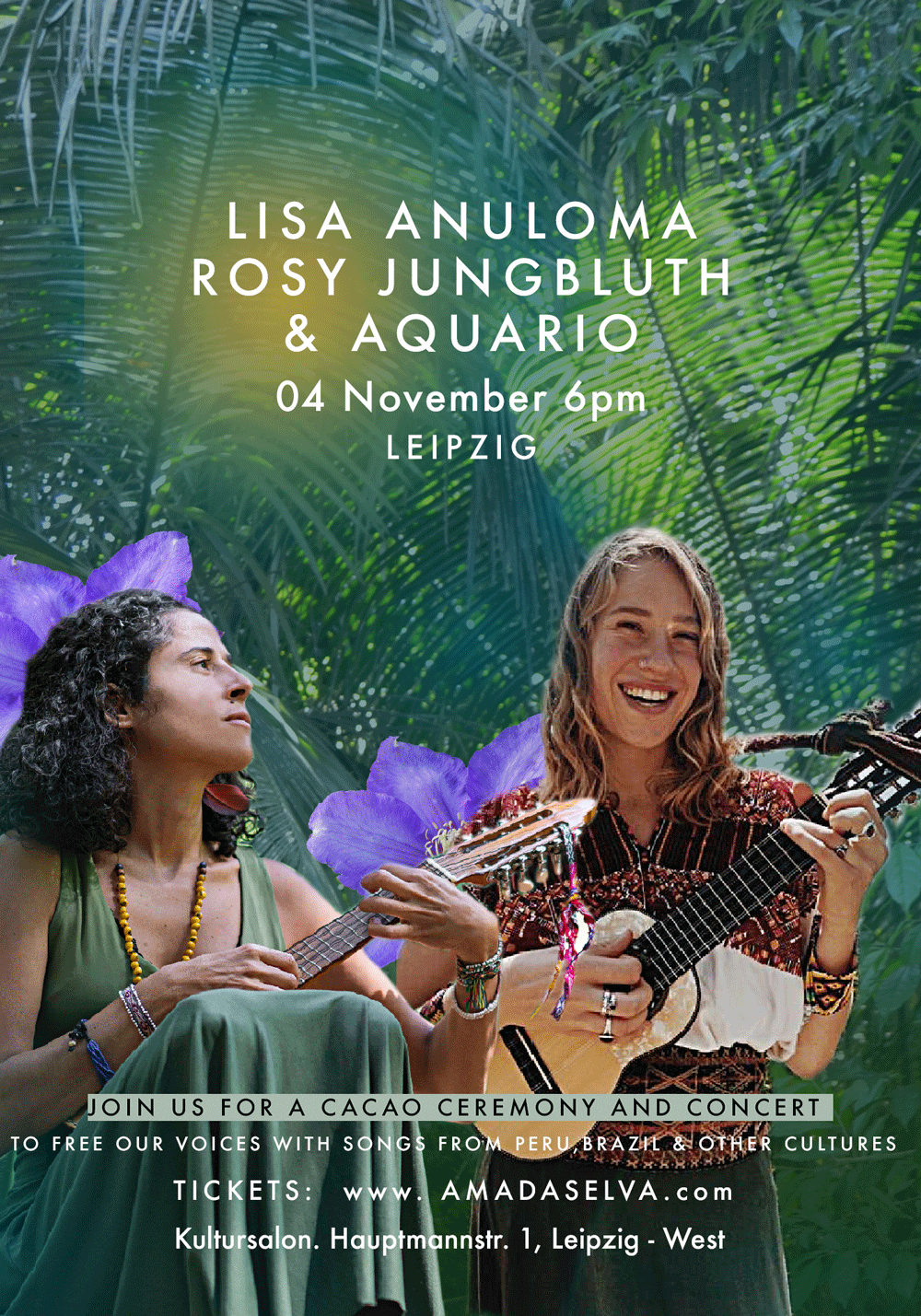 4.11 in Leipzig : Cacao Ceremony and concert

Lisa and Rosy weave together songs from the heart that invite you to a journey between the Andes and the Amazon jungle.

Lisa comes from Switzerland after a long trip through Brazil working with indigenous communities, collecting songs inspired by the gods of the forest, the sea, the water. Lisa plays charango, guitar and shares her beautiful voice.

Rosy is Peruvian, plays charango from the Andes, percussion and sings songs inspired by the native people of Peru, she will share the ceremonial Cacao from the Amazon and stories about Cacao, the jungle and the intention of the songs.
Erik, Aquario is an amazing world music artist creating mystical soundscapes & medicine songs.

A ceremony to pray for peace on this earth, the unity of families and communities, for health & preparing for winter, also remembering our ancestors, calling the divine light to be with us.

❊ Cacao is the heartbeat of the earth, that connects us to our body and soul ❊

Come sing, pray and celebrate with us!

Saturday 04 November 2023

Time: 6 to 8pm
Doors open: 5:30pm
Address: Kultursalon, Hauptmannstr. 1, Leipzig - West

Reserve a place here:


Price: 30 €
(includes one cup of Cacao)

With Paypal its possible to pay in Euros:
www.paypal.me/rosyjung

rosyjs@gmail.com
Include name and email.

︎

Send me an email to save you a place, also possible to pay at the door:
rosyjs@gmail.com

Thanks!

Rosy

Ps. If money is an issue, please email me to find a solution.


Lisa Soundcloud:
www.soundcloud.com/lisaanuloma

Rosy Soundcloud:
www.soundcloud.com/rosy_kantu

Aquario Music:
www.aquario-music.com/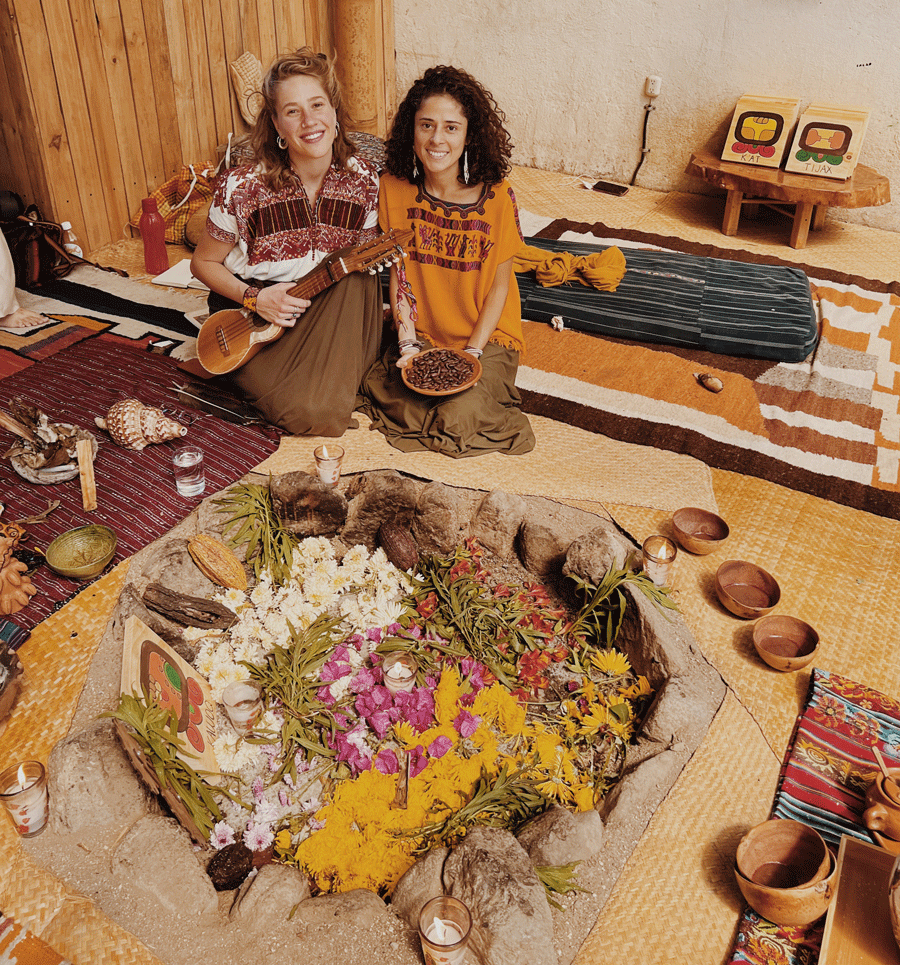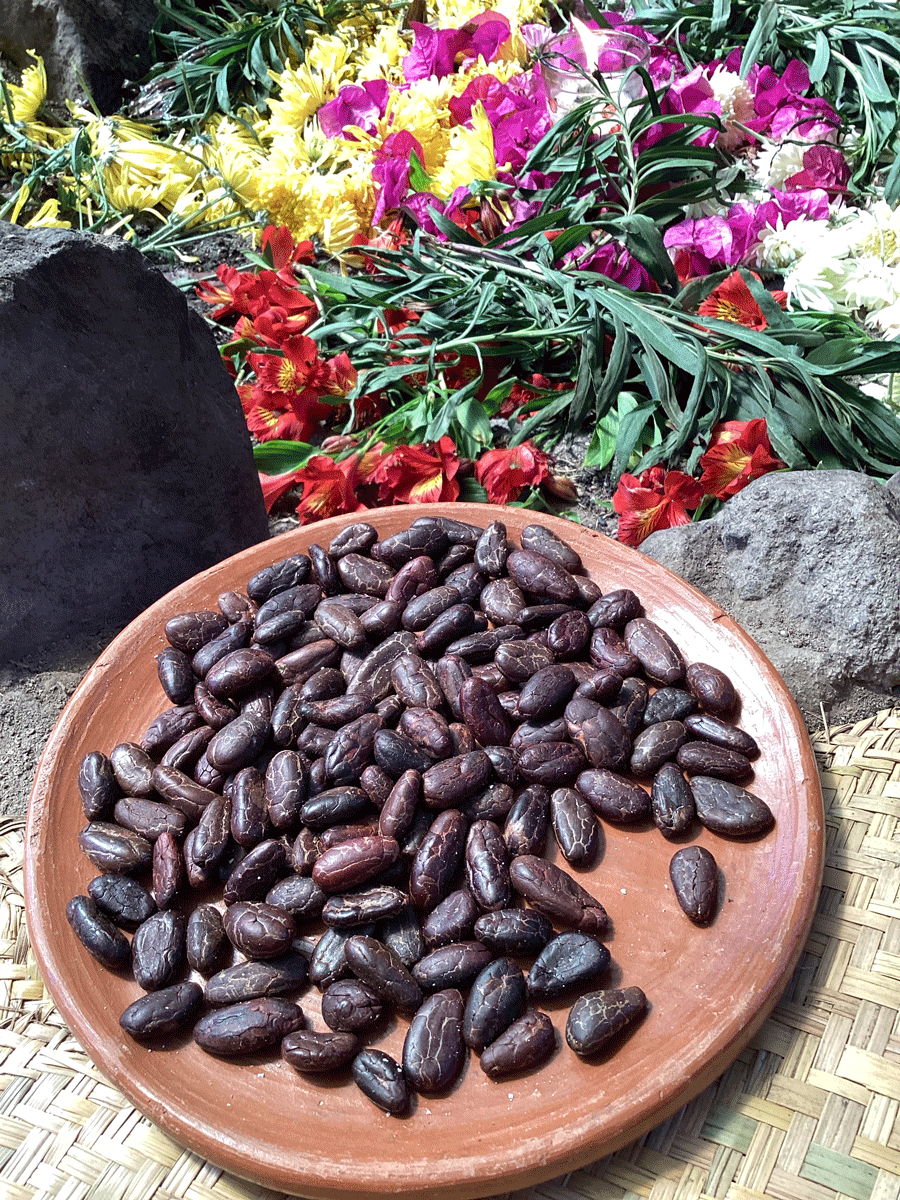 Testimonials :

"Rosy and Lisa have been creating a very cozy and heartwarming space. I loved the way they explained about the ceremony, the Cacao (cultivated from Rosys family-farm) and how they guided us through the whole ceremony. The ceremony-opening-prayer, hold by Rosy, was very beautiful. She leaded us into the Peruvian jungle and to the seeds of Mama Cacao. When Rosy and Lisa startet so sing, it felt like we are entering a boat and sealing together to another sphere. Singing, celebrating life and praying all together sitting and dancing in a circle, so beautiful.

I wish Rosy and Lisa many more Cacao ceremonies to realize again in Switzerland and around the world."
Sonia


"When I met Rosy, I felt a strong connection to her and to my motherland Peru. Rosy radiates and lives beauty and carries the soul of the jungle and the Andes. The cacao from her family is gentle and rich in flavors. Every time I drink a cup, I feel a shift happening.

The cacao ceremonies that Rosy and Lisa provide are just beautiful and loving. They create an intimate and safe space to share thoughts and feelings and to open the voice and heart to the vast array of songs they have collected through their travels. Rosy and Lisa are pure inspiration."
Mónica V.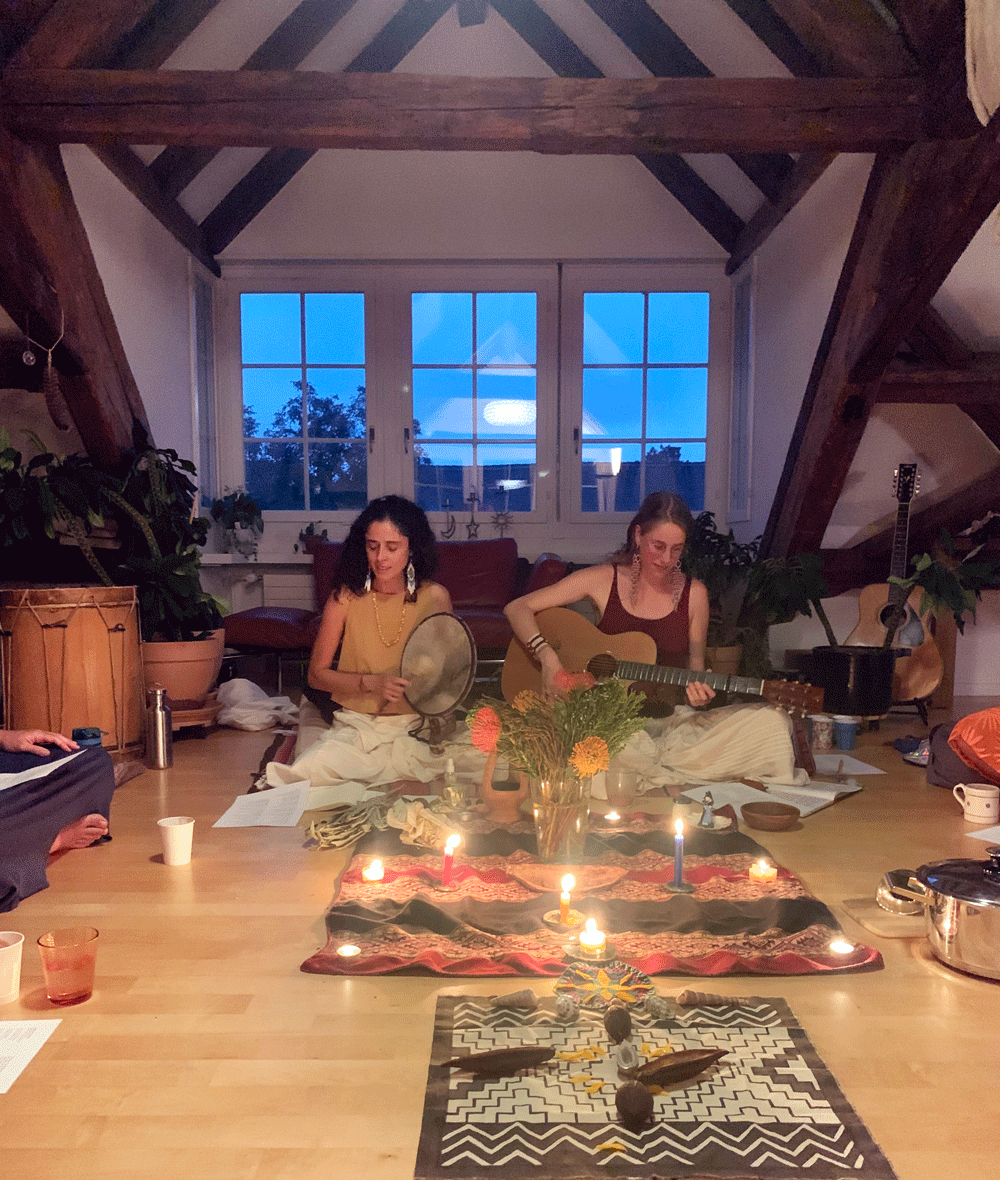 Lisa & Rosy in ceremony

Erik & Rosy in concert and ceremony in Taucha, Ancient Trance 2023.
Paypal:
www.paypal.me/rosyjung
Send me an email to save you a place:
rosyjs@gmail.com

---
Bring your water bottle, during and after ceremony drink plenty of water.
We recommend not to drink alcohol or coffee before and after the ceremony.
Cacao is not recommended when taking antidepressants.
❊❊❊❊❊❊❊❊❊❊

History of Cacao


Cacao traces have been found in vessels in various Aztec, Mayan, and Olmec temples. Some researchers believe that Cacao was used ceremonially before the

Olmecs of Central America (before 1700 BC).

The Aztecs and Mayans

consider Cacao as

the Goddess of fertility

. Cacao was mainly used by royal families in these traditions to perform various rituals (fertility, rain rituals, ancestral connection)



Birthplace of Cacao

Peru has the highest genetic biodiversity of Cacao in the world. The scientist E. Cheesman theorized that the Cacao tree was native to the upper Amazon region of South America.

The world's oldest Cacao is found in the border of Peru and Ecuador. A spiral temple was discovered in Montegrande (Peru) and another in Palanda (Ecuador). The temples that has a shape of a coiled serpent. This temples dates 3,000 BC and demonstrates that cacao was used for ritual and ceremonial purposes in ancient Peru before the Incas.


Cacao single origen Peru

Cacao Amada Selva comes from the jungle of Chazuta, San Martin, Peru.
Our Cacao is grown, produced ethically with love by our Family Casa Qoya Peru.
We are a family working to bring you the best and high quality Ceremonial Cacao to Europe.